It might seem that in 2020, there hasn't been much to be collectively joyful about. With the COVID-19 pandemic and the election cycle actively driving our communities apart both physically and socially, it has been easy to fall prey to feelings of anxiety and loneliness. However, our isolation has also forced us to adapt, and it has given us opportunities to explore new ways of being creative, both individually and in how we build community.
Ludwig van Beethoven was familiar with adapting to unfortunate circumstances. Beethoven had started to lose his hearing as early as 1798, and in a letter to his brothers dated to 1802 (that was never sent but discovered in his personal documents after his death), he recorded his thoughts of suicide due to his hearing loss but also his resolution to continue living for and through his art. Continuing to find hope in his creative passions, Beethoven was almost completely deaf by the time he wrote his Ninth Symphony in 1824. In fact, at the symphony's premier in Berlin, he stood onstage next to the orchestra's conductor and was unaware of the audience's boisterous applause at the end until he turned to see it. This symphony, which includes the famous "Ode to Joy" melody, went on to become one of the most popular works in all of Western music. Presbyterian pastor and author Henry van Dyke had the "Ode to Joy" melody in mind when he wrote the text to "Joyful, Joyful, We Adore Thee," a hymn that has allowed Beethoven's music to bring even wider and more diverse audiences together in community.
Music is a creative expression that has always brought people together and soothed the spirit, offering a deep sense of hope. Even though these days we can't gather physically and sing together as a community, we can certainly adapt – as Beethoven did – and still unite to make a joyful noise! Beethoven's music and van Dyke's text, set against images and videos offered by our Adult Choir members that display the beauty and wonder of God's creation, remind us that there is always much to be joyful about. In its constant process of renewal, all of creation reflects God's rays, giving us hope and calling us to rejoice as we sing and march onward, victors in the midst of strife.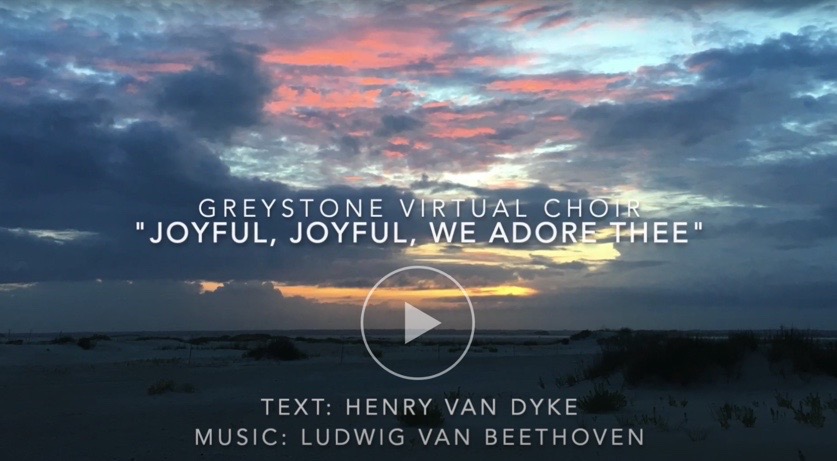 Resources Used for this Article:
Cooper, Barry, Beethoven. Oxford: Oxford University Press. 2008.
Cooper, Barry, ed. The Beethoven Companion (revised ed.). London: Thames and Hudson, 1996.
Christian McIvor
Minister of Worship, Music and the Arts