The Greystone Adult Sunday School Mission is to promote spiritual growth by providing excellent weekly directed Bible study, to help members determine how scripture is relevant to their lives and to encourage individual Bible study. Most of the classes meet in the Adult Education Building (West Wing).
Pathfinders Fellowship Class
Gathering Space across from Sanctuary (map)
Class members are women and men in their sixties and up. This class is seeking, with God's direction, to grow deeper in their walk with God as they make practical applications through the study of biblical principles. Smyth-Helwys curriculum is used; however, occasionally an independent study on a specific aspect of faith is the topic.
Teachers: Wayne Smith, Pat Boone, Dave Maxey and Chip Franz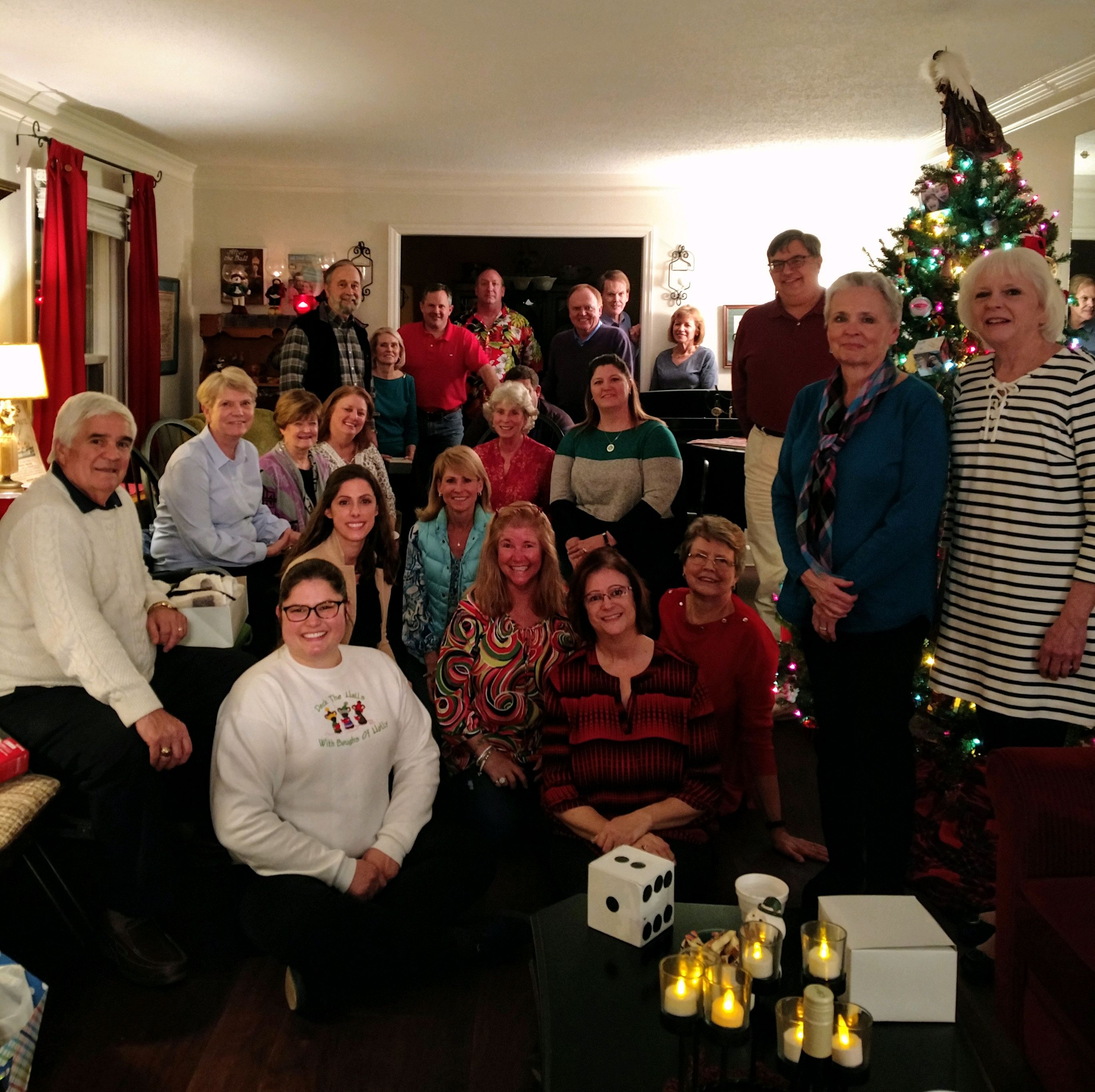 The Edge Sunday School Class
Breezeway Classroom (map)
This inter-generational class invites followers of Jesus of all ages who wish to practice the presence of God while on their spiritual journeys. We study challenging, sometimes controversial, Christian material and welcome all questions, respecting each other's ideas and beliefs.
Facilitators: Carol Allen, Jenny Anderson, Karen Brewer, Jerry and Patsy Chiles, Marcia Ostendorff, and Brenda Taylor.
Women's Fellowship
Parlor (off of Sanctuary Hallway) (map)
The Women's Fellowship Class is a class for women of all ages. We are energetic, warm and welcoming women, coming together to study God's word for guidance and direction in their everyday walk of life. This class offers prayer time and fellowship that exhorts and encourages one to go out and live in a Christ-like way.
We have monthly luncheons for fellowship and have continual prayer chain for support.
We are led in study by five rotating teachers, volunteers from the class membership. Currently we are using the Smyth-Helwys Uniform Adult Bible Study Series and expect to continue with this series.
We would love to have you visit our class!
Teachers: Ginny Liverance, Louis Estes, Joan Hobson, Dale O'Neal
Insights
West Wing, Room 1 (map)
The Insights S.S. Class emphasizes in-depth study in an interactive, discussion-oriented format and values modern Biblical scholarship. Curriculum includes Biblical studies and book studies. The class recently studied Stephen Prothero's book, Religious Literacy and currently is studying the four Gospels (Mark, Matthew, Luke, John.) Most members are between 35 and 55 yrs., but all ages are welcome.
Teacher: Brian Perkinson
Grace Fellowship Class
West Wing, Room 2 (map)
Grace Fellowship S. S Class heartily welcomes adults of all ages. The class now includes couples and individuals whose ages range from thirty-something to sixty-something. As the name suggests, there is a strong sense of community and friendship within the class. Additionally, our class has an ongoing commitment to supporting mission activities – within the church, in the community, and across the world.
Study topics for the class are varied. We typically use a Smyth-Helwys study series for one trimester, and spend the remainder of the year covering topical studies and Bible book studies.
Currently, the class is using the Smyth-Helwys Formation Series.
Come join as we continue our faith journey in studying!
Generations Class
West Wing Room 5 (map)
The Generations Class is a Bible-based, Christ-centered, Spirit-led class for all ages, all generations. A varied curriculum throughout the year is used to assist each individual in their daily walk with Christ and enhance their becoming an embodiment of our Church watchword, "Every Member A Minister."
Come visit and join us in Bible Study!
Salt and Light Class
West Wing, Room 5 (map)
The Salt and Light Class is a coed adult class comprised mostly of empty nesters. Its members enjoy honest discussions about the Bible and trying to "walk the walk we talk."
We look forward to having you study with us!
Teacher: Kay Meyer
Young Adults S. S. Class
West Wing, Room 6 (map)
Young Adults Class members include folks who are post school (college, etc.) and before understanding kids (but are really trying to understand their young ones!), singles and recently marrieds. Class members are sharing, caring and supportive people who are very welcoming. The class participates in community activities (such as feeding the homeless}, and frequently celebrates life and the company of each other (Christmas party, cookouts, etc.). We are driven to grow in our relationship with God and become better Christians. Bible study is a crucial part of that goal.
Visitors always welcome!
Leaders: Mike and Patti Ogden
Life Application Class
West Wing, Room 7 (map)
The Life Applications Class welcomes adults of all ages to join them for study. Currently, members are between 40 – 60 yrs. of age. We enjoy lively discussion as we study scripture and discover how God's Word applies to our daily lives.
Come study with us!