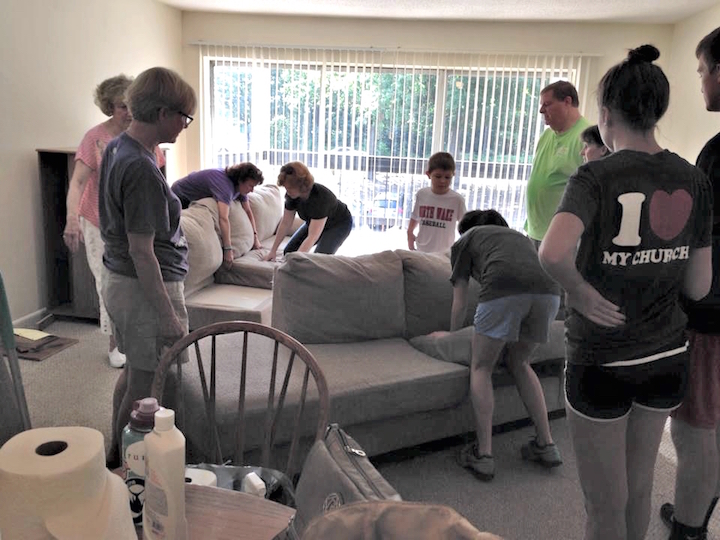 Have you ever moved to a new town? Can you remember the newness of it? You might have asked yourself questions like: Where is the grocery store? How do I find a pediatrician? Where is the best pizza? This doesn't even get into the paperwork, documentation, and angst over registering for a new school that moving brings.
I am thinking about moving because this week a new family is coming to Raleigh: a dad and his five kids. The youngest child is 5 years old. This family isn't moving in the way that you and I would move homes or switch towns; instead, what they are doing is fleeing – fleeing a homeland that is filled with severe hunger, malnutrition, and violence. This family of refugees is coming to our neighborhood.
So what's a church to do?
We can't answer all their questions or take away the newness of this strange place called Raleigh, but we can help. To start, Greystone members went to a vacant apartment last weekend. They took with them sofas and bunk beds, blankets and towels, dishes and food. They scrubbed and vacuumed and made ready a place for this family to land. A place to eat and sleep, a place to do homework and play games, a place to laugh and cry, a place that we pray will eventually be home. These church members have never met this refugee family. They don't even know the names of the children, but that's okay because quite honestly, love needs no introduction.
Going forward we will pray for the health and courage of this family. We will pray that they will make friends and find the support that they need. We will pray that they will find work and succeed in school. We will pray that they will thrive as individuals and as family.
We will also pray for ourselves that we will be good neighbors and better friends. . . . and we will get ready. We will start all over again – collecting furniture, buying the essentials, donning our very fabulous and stylish yellow gloves to clean and scrub again so that another family from a far off place can find their way home.