Retreats offer a chance to get away from the routines of life so that students might hear God's call upon their lives.  For the youth of Greystone Baptist Church, the long weekend around the MLK holiday was a great example of how a retreat allows for reflection.  Rather than celebrate the end of another school semester by binge-waching Netflix, these middle school and high school students traveled to Lynchburg, Virginia for a winter mountain weekend.
The students stayed at Eagle Eyrie Conference Center in Lynchburg.  Here is a group picture from just outside our cabin.  It was an incredible view for the weekend.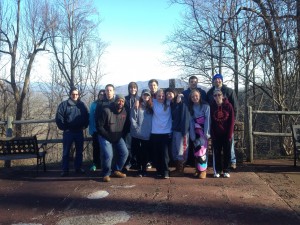 The retreat was led by Allen Ingram, a 2nd year student in the Master of Divinity program in the Baptist House of Studies at Duke Divinity School.  The group discussed Dr. King's speech, "A View From the Mountaintop", and reflected on how individuals needed to be thoughtful and intentional about integration, particularly during the tense years of Dr. King's life.  This offered the students a chance to explore how they might be thoughtful and intentional about their church.  The group shared that they desired for their church to be more involved in the local community and that the worship services continued to help them connect with God.  They also asked for more all-church breakfasts, which are clearly popular with the students.
It was a great weekend of relaxation and reflection.  The "mountaintop" experience offered the students a chance to worship and hear God's call on their lives.  Additionally, the students enjoyed snowboarding and snow tubing at the Snowflex Centre.