Julie Hardison Green is a member of Greystone Baptist Church and has been since she ran in the doors at the age of three. She's active on the Children's & Preschool Committee, the Stewardship Committee, teaches the Young Adult Sunday School class and is active in conversations about guiding the church's social media presence.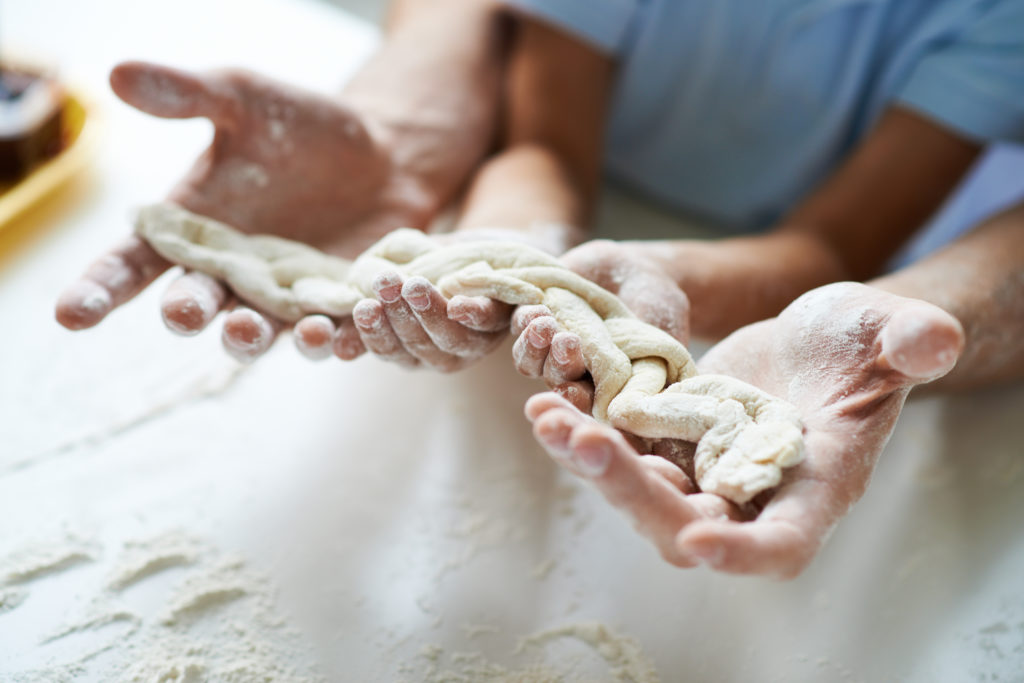 Acts 2:46 – "…breaking bread from house to house, they ate their food with gladness and simplicity of heart."
If you've been on social media or our website here at Greystone the past day, you see there is a workshop with Pastor Chrissy to make Challah for communion Sunday. It's a chance to learn, with step by step guides, how to make the bread we break at Communion each Sunday when worshiping together at Greystone. This bread wasn't selected lightly. The challah bread is one steeped in history and tradition.
The prayers and customs that accompany the mitzvah of making challah for the Sabbath are the same the world over, linking the present to the Book of Leviticus, when God instructed Moses to "Take fine flour and bake twelve loaves of bread…Set them in two rows, six in each row, on the table of pure gold before the LORD." For more than 4,000 years since, Jews have been delighting in challah for Shabbat. The strands that create the beautiful braid? There are twelve, just as there were twelve tribes of Israel.
Baking has always been a love of mine, passed down from my grandmother, onto my own mom and now down to me and my sister. We show love with pound cakes, buttercream frosting, pies and biscuits. I consider myself to be a pretty knowledgeable baker, but one thing I didn't know how to bake was bread. It seems daunting with words like "yeast, "proof," and "rise." It also included these very long periods of waiting for the bread to rise. For someone like myself with no patience, it didn't seem worth the investment.
But, when Pastor Chrissy came into my life as a church member, she brought with her leadership, friendship, love, and an immense knowledge of bread making. Deciding that I was no longer intimidated, I asked one Friday if she minded showing me how to bake, and she asked a question that blew me away. "I'm making the challah for communion this weekend, wanna help me with that and see how I do it?" Yes. Read that again. When we've sat in the sanctuary on communion Sunday and she breaks bread, that's bread she mixed, kneaded and baked herself.
We stood side by side in her kitchen and she helped me braid and as we did, she told me that whenever she makes bread she prays while kneading. I have not stopped thinking about that since I walked out of her house with challah and sourdough starter she shared with me. I've shared that starter with other members of our church and with family members. I've since gained confidence in my ability to make bread on my own. And each time I do, I knead and pray. When I share that starter, I'm always sure to say who it came from. I am always certain I tell them to pray while they knead their dough.
These days, life is hard. Isn't it? It doesn't matter if you're working from home, if you're going into the office, if your only focus is kids, if your focus is being a caretaker – it doesn't matter. There is fear, uncertainty and we're all searching for a way to feel connected in a time of physical disconnection. When I saw that Pastor Chrissy was offering a workshop on baking Challah, my heart almost exploded as I thought about this opportunity. It's the same opportunity I had on that Friday morning, standing next to her in the kitchen as we kneaded and prayed. It's the opportunity to feel connected as we braid the strands, the strands that remind us of our own unique journeys of faith. That braid reminds us that although we won't be together when we bake or even break the bread for communion, that we are stronger, better, more spiritually grounded woven together like the braids of our bread.
If you had asked me a few months ago if I thought that bread could be a spiritual practice in my life, I might have laughed at you. I might have raised my eyebrows and thought, "That's such an odd thing to say, an odd way to worship." I can say now that I hope you take the opportunity this weekend. I hope you gather your little ones, your spouse, or even your dog to keep you company as you learn this art. This art of worship and of baking bread. I hope you find some relaxation in the kneading, some healing in the prayer, and some hope that we all are truly still connected.
To join Saturday's workshop, please email office@greystone.org and the Zoom link will be emailed to you. The ingredient list is below.
| | |
| --- | --- |
| Challah (Better Homes & Gardens Bread Book) | |
| Ingredient | Amount |
| All Purpose Flour | 7 – 7.5 cups |
| Dry Yeast | 2 pkgs |
| Water | 2 cups |
| Margarine or Butter | 0.25 cups |
| Salt | 2 teaspoons |
| Eggs | 3 whole |
| Egg Yolk | 1 |
| Sugar | 0.25 cups |