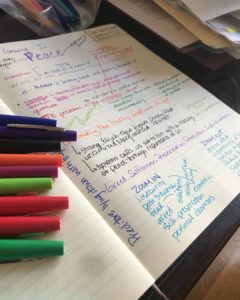 We find ourselves in a world that offers all kinds of solutions for creating and keeping peace. Yet true peace that includes global peace, inner peace, interpersonal peace, and most of all peace with God seems to elude us. So perhaps it is time for us to turn around, to leave behind the "peacemakers" that are born of war and violence and self-preservation…
Maybe this is our repentance?
Maybe this season, we might turn from the centers of worldly power, that are promised and imposed by the Herods of today; and as we turn we might pray that our hearts be converted to new ways of peacemaking. Ways that start with risk instead of self-protection…
Ways that choose listening to our neighbors rather than assuming they are out to get us… Ways that understand that peace of any kind (inner, global, or relational) cannot be achieved with the heroes or weapons of the Wild West…
Maybe we can repent and turn to accept a new understanding that peace is not possible without the same level of vulnerability modeled by Jesus, who is named the Prince of Peace.