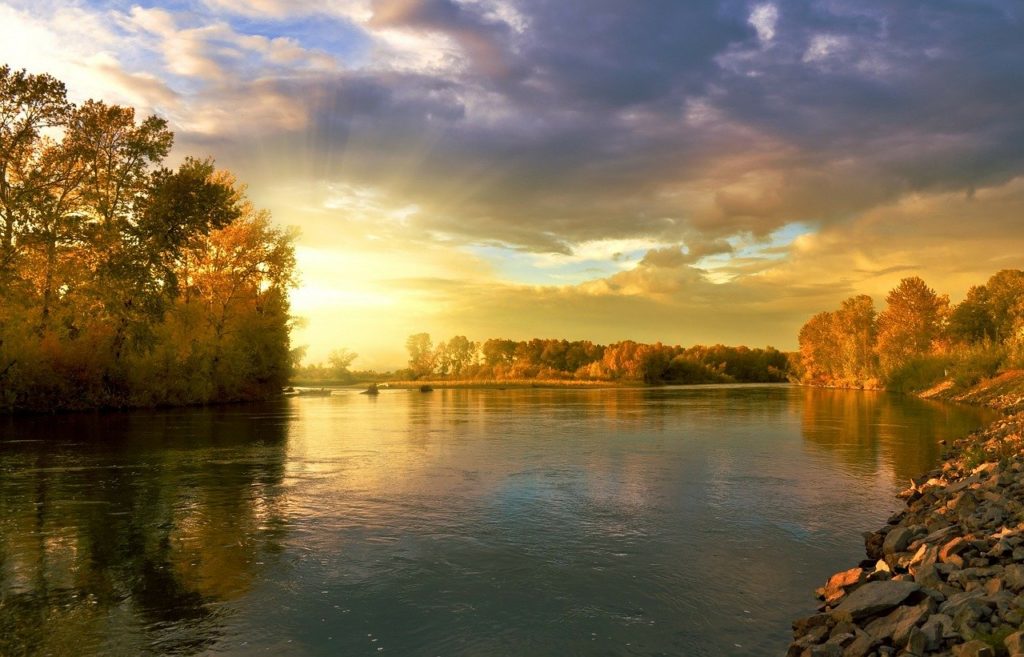 17 While all Israel were crossing over on dry ground, the priests who bore the ark of the covenant of the Lord stood on dry ground in the middle of the Jordan, until the entire nation finished crossing over the Jordan.
Joshua 3:17, NRSV
"Deep River" is an African-American spiritual whose words are simple. They speak of home, of longing, and of a promised land where there is plenty and peace:
Deep river, my home is over Jordan.
Deep river,
Lord, I want to cross over into campground. 
Oh, don't you want to go to that gospel feast,
That promised land where all is peace?
Lord, I want to cross over into campground. 
I'll go into heaven, and take my seat,
Cast my crown at Jesus' feet.
Lord, I want to cross over into campground.
Deep river, my home is over Jordan.
Deep river,
Lord, I want to cross over into campground.
Public Domain
The Fisk Jubilee Singers, a small choral ensemble from Nashville's Fisk University, first brought this song into the American mainstream. Fisk University–which offered admittance to both men and women, regardless of their race–began in 1866, and by 1871 was financially struggling. The following year, 1872, the Fisk Jubilee Singers began their tours of the northern US and much of western Europe in order to raise money for the university. The Singers' repertoire included many spirituals, one of which was "Deep River." This song was also included in an 1877 print publication about the Fisk Jubilee Singers and their songs.
During the twentieth century, "Deep River" was often included in musical publications. One of the earliest of these publications was a 1905 piano songbook by Samuel Coleridge-Taylor. A few years later baritone Harry T. Burleigh arranged it for his Two Spirituals, published in 1913. Burleigh's arrangement gained additional visibility when the classical singer Marian Anderson (1897-1993) included it in her performances and recordings. Also, James Weldon Johnson and John Rosamond Johnson included "Deep River" in their influential collection of spirituals published in 1925. The song's chorus was even referenced in the choral oratorio A Child of Our Time (1939-1941). "Deep River" has also been published in 21 different hymnals. 
This spiritual's melody is beautiful, its tempo is moderately slow, and its chorus is pentatonic. (A pentatonic melody is one that only uses only 5, of the available 7, tones of the scale.) This song, which was born in the struggles and hardships of African-American slaves, has, over the course of time, brought hope and comfort to people of many races.  
"Deep River" is included in Greystone's June 28, 2020, online worship service.

Resources for this article:  Discipleship Ministries, The United Methodist Church, History of Hymns:  "Deep River," by C. Michael Hawn, https://www.umcdiscipleship.org/articles/history-of-hymns-deep-river.  Fisk Jubilee Singers, Our History, http://fiskjubileesingers.org/about-the-singers/our-history/. Hymnary.org, Deep River, https://hymnary.org/text/deep_river_my_home_is_over_jordan.